Crooke's nook a picture-perfect escape
---
ROOM AT THE INN: SHARON FOWLER THE AUSTRALIAN JUNE 01, 2013 12:00AM
---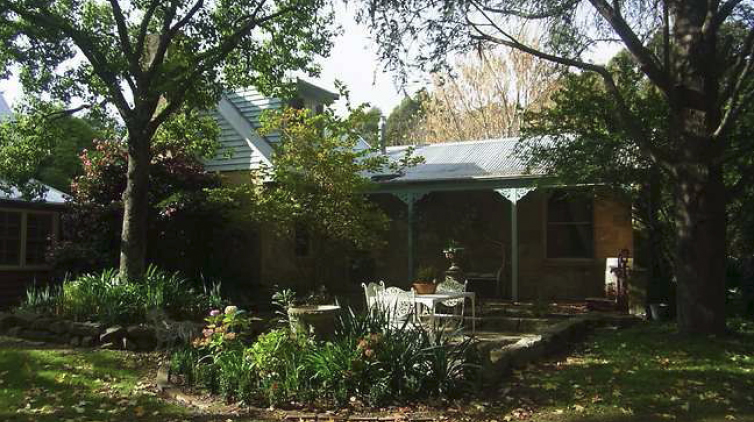 The Studio, one of six cottages at Little Forest. Picture: Sharon Fowler, Source: The Australian.
---
AUSTRALIAN painter Ray Crooke is best known for his vibrant, patterned landscapes inhabited by smooth-skinned Pacific islanders, yet he once made his home in a place far removed from any tropical idyll.
In 1960 Crooke purchased Little Forest, a picturesque, rural property in the NSW Southern Highlands, where he gathered the sandstone blocks remaining from a former inn and built an artist's studio. It was here that he painted his 1969 Archibald-winning portrait of author George Johnston (whose ashes are interred on the property), and entertained a colony of artists and writers over the next decade.
Today, Crooke's studio is one of six cottages for rent at Little Forest, and it's where my family has arrived for an autumn weekend.
When we step through the front door into the open kitchen and living space it's chilly, but there's plenty of chopped wood and kindling on hand and we soon find the kitchen fireplace (there's another, larger one, in the lounge) effectively heats the cottage to near-tropical temperatures.
The Studio has a large, well-stocked modern kitchen (including a coffee machine), dining table and cosy lounge with flat-screen television, a big DVD selection and a wall of books inviting lazy evenings by the fire. The decor is eclectic: a coat of arms, miniature suits of armour, grizzly bear lamp and a signed Ray Crooke above the fireplace — islander women, cobalt seas and scarlet hibiscus.
Beyond the kitchen is a large bedroom with an antique bed and French doors, and a large bathroom with a claw-foot tub. The vanity's swan brass tap is an amusing touch. Upstairs is a blue-hued loft with two single beds, an inviting hideaway for older children (although steep stairs make it unsuitable for toddlers or the elderly).
Little Forest is a beautiful, sprawling estate, its grounds dotted with sculptures, wrought-iron signs, a full-sized gypsy caravan, a treehouse, a miniature MG and plenty of other quirky finds.
After exploring, we sit by the lake on the gazebo steps watching geese amble by and later enjoy a short bush walk at the rear of the property.
Fiona Brown bought Little Forest in 1996, and has extended the accommodation to include Eco Cottage (where governor Macquarie once camped) and Oatley Cottage, a 1910 home destined for demolition that was transported here and rebuilt on site.
Little Forest is an ideal option for extended groups or families, and children will love the animals — chooks (collect eggs for breakfast), a pair of alpacas, pigs, two Shetland ponies and a donkey named Hector, who never fails to greet us when we visit his paddock. For our toddler, the only thing more exciting than Hector is the old train carriage that Brown recently had transported to the site.
We're shown inside and I'm stunned to find a contemporary kitchen, living area and bathroom, and a row of lovingly restored sleeper cars.
It may not be a tropical island paradise, but Little Forest is a distinctly relaxing haven of another kind.
Sharon Fowler was a guest of Little Forest Country Cottages.
Checklist
Little Forest Country Cottages, 800 Old Hume Hwy, Alpine, NSW; (02) 4889 4229;
littleforest.com.au (http://littleforest.com.au).
GETTING THERE
Ninety minutes' drive south from Sydney; five minutes from Mittagong.
CHECKING IN
Couples, families, wedding parties (there's a marquee).
WHEELCHAIR ACCESS
In some cottages.
BEDTIME READING
Ray Crooke: Island Journal (australianartbooks.com.au).
STEPPING OUT
Brunch at Sturt Gallery; high tea overlooking the vines at Centennial Vineyards; browse Bowral's antiques stores, get lost in Harper Mansion's garden maze in Berrima, and stock up on "NSW's best" pinot noir at Tertini Winery.
BRICKBATS
Intermittent noise from the nearby train line.
BOUQUETS
Inviting at-home atmosphere; family and pet-friendly.