OATLEY COTTAGE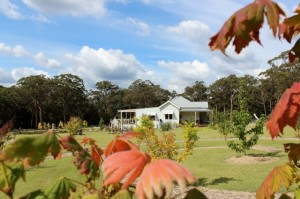 Oatley Cottage was originally built in 1910 in Oatley, an outer suburb of Sydney, and was surrounded by an orchard. Its character and charm attracted Fiona, so in 2009 she saved the cottage from being demolished. Oatley Cottage was cut in two and transported on a semi-trailer to Little Forest. Here it was rebuilt with sympathetic modern additions and colour schemes that enhance its pretty period details.
Oatley Cottage has three generous bedrooms a brand new bathroom and beautiful country kitchen with a modern Rayburn range. Oatley has comfortable outdoor seating on the wide wrap-around verandah and barbeque facilities and a mature French provincial garden with beautiful lavender during most months and camellias in the winter. There is an orchard producing cherries in the Summer months.
The garden's centrepiece is an antique sandstone fountain, surrounded by formal plantings, all of which are already in place and can be enjoyed from Oatley's wide verandahs.

With the environment in mind a Biolytix septic system and a hundred and fifteen thousand litre water tank forty thousand litres of which are set aside in case of bushfires have been installed. Environmentally friendly materials have been used throughout the renovation. Oatley Cottage also has a low power water heater, a slow combustion stove for heating, and with double-glazing and insulation to keep the cottage cosy in winter and cool in summer.