Bootie and Trumbie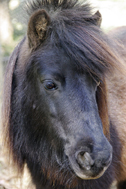 Bootie and Trumbie are two beautiful Shetland ponies, brother and sister, and are around twenty-five years old. You will find them in the top paddock, past the alpacas and Hoggie the pig.

Augustine and Freda

Augustine and Freda are our one-year-old alpacas. They arrived at Little Forest in January 2011 and are also very friendly.

Chooks and Geese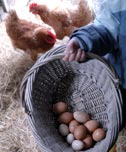 Ginger and the girls like to free range and investigate what you are doing outside. If there are guest dogs, we keep the chooks locked up for their own safety. Please ensure they don't escape. We also have white geese who live on the dam.

Please do not feed the animals as they have a strict feeding regime but you are welcome to assist the staff at feeding time.
There are many wild birds, including bowerbirds, parrots and blue wrens. You will also see lots of rabbits at night and the occasional wombat, kangaroo, wallaby and fox. You may encounter spiders, frogs and insects around the cottages. We are a farm stay so in the summer you may even see a black red belly snake or two basking in the sun.