One hour south of Sydney in the New South Wales Southern Highlands, you will discover Little Forest. On this historic forty acre property there are six enchanting country cottages available for short or long stays.
Little Forest is a historic country venue, catering for couples or gatherings up to 40 guests. We have hosted families, writers, artists, meditation workshops, needleworkers, cyclers, boot camps, corporate meetings, cooking classes, ceremonies, anniversaries, locums, short term mid week workers accommodation, fashion and film shoots.
Little Forest – where every day is a Sunday

"A glorious stand of paper barks, so old and unusual that they are Heritage Listed, guard the entrance to Little Forest Country Cottages like ancient sentinels. Once you pass through them, as if heading through a magical gate-way, you are quickly upon another world with a history all its own…" Sunday Telegraph, Escape 2008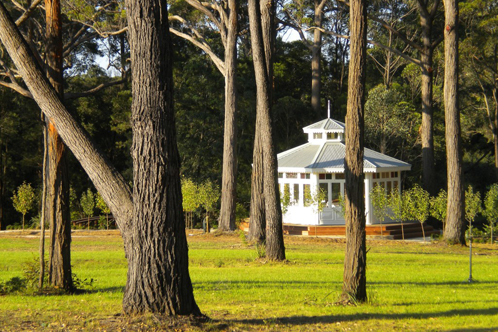 THE COTTAGES: The six self-contained cottages are delightful retreats. Appointed with antique furniture and crockery, fully equipped modern kitchens and bathrooms, outdoor settings, hammocks and barbeques. They are family and pet friendly too.
THE FARM: Enjoy the property's bush tracks, easy to use on foot or mountain bike. Abundant native flora and fauna inhabit the property.
HISTORY: Experience where Governor Lachlan Macquarie camped in 1821. Discover Little Forest's own long history as a place of inspiration for artists and writers throughout the 20th Century.
THE AREA: Stylish and sophisticated the Southern Highlands also retains the charm of its colonial past. Little Forest is conveniently located, only minutes from the towns of Bowral and Mittagong with Moss Vale nearby. As are the villages of Berrima, Burrawang, Exeter, Sutton Forest and Robertson. Browse our fabulous boutiques, art galleries, book and antique shops. There are a wonderful variety of restaurants and cafés for you to try. Discover delicious locally grown food at the weekend Farmers' Markets or follow a wine trail to sample award-winning cool climate wine.