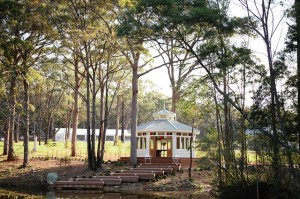 We have a romantic Gazebo Function Room at Little Forest which is perfect Weddings and Events of all kinds. The Gazebo seats twenty for meals and many more for workshops, meetings, ceremonies and cocktail parties. The design is unique and features beautiful stained glass panels that were found in a local antique shop and wide decks overlooking the pond. We also have Mary's Rotunda in the historic Orchard this elegant rotunda is ideal for groups of up to fifty.
Let us know if you would like to book the Gazebo or Rotunda for a wedding, a perfect dinner party or a never-to-be-forgotten family function. The Gazebo is fully glazed and heated for year round enjoyment and comfort.
Gazebo and Mary's Rotunda – Event Hire
The current fee is $250 per hour for the use of St Paul's Gazebo, for up to 20 guests. The surrounding area has a capacity for 50 guests, with a charge of $10 per additional guest per hour. An example would be a wedding for 50 guests for 3 hours would cost: Gazebo hire $750 Additional 30 guests grounds hire $900.
If you have more than 50 guests we need to evaluate the number of guests and the facilities we can provide without damaging the property, primarily in the event of bad weather and/or rain.
Mary's Rotunda
Mary's Rotunda is located in the orchard at Little Forest. This is also an ideal place for a wedding/event with up to a maximum of 50 guests: This facility does not have any under cover areas, so in the event of inclement weather you will require umbrellas for each guest, which are also available for hire. The cost for Mary's Rotunda is $10 per person per hour. Additional facilities are available for hire on request, such as trestle tables, large market umbrellas, signing table, white fold-up chairs, glasses etc. If you have any further questions please do not hesitate to contact us.